Content Auditing & Content Creation
Data Driven Content Marketing Strategies That Actually Work
Let us help you produce SEO optimized content that will help your business rank highly in search
Content marketing for your business shouldn't be something on a to do list. Your content creation strategy can drive more customers to your business and position your brand as an authority. Now that's worth pursuing!
Content Not Getting Results For Your Business?
Is Your Content In Working Order?
Content for your website is a critical element that is vital to your online success. Having just anything as website content will not cut it though. Content needs to be structured correctly and that means having content that is topically relevant and tells search engines and your website visitors what your brand or business is all about. Getting your content marketing strategy can become a very time consuming and technical ordeal. Allowing your website to undergo a content audit can give you all the insights that you need to get your content strategy in working order and a roadmap to follow.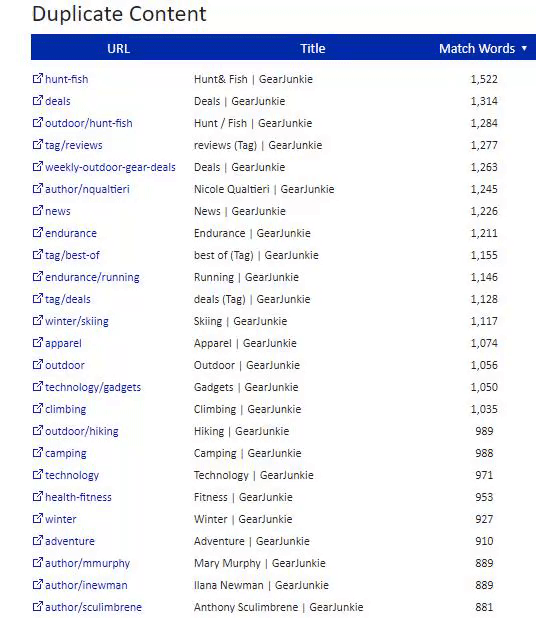 Content Creation Strategies Your Readers Will Enjoy👓
Content That Search Engines Will Love💜
Creating content for your website that reflects your brand and business image while also containing all of the elements required to rank in search can probably seem like a daunting task. Many business owners simply do not have the expertise, time or motivation to complete professional content creation. Perhaps there are some instances where content creation is pursued, yet eventually discontinued due to time restraints or lack of results. The Brand Sherpas makes it easy for you to have all of your content audited, strategized and created professionally.
Not Sure Where To Start The Content Journey❓
But Know You Need Help With Content Auditing & Creation?
If you are struggling to produce results with your content marketing strategy, or do not have a content marketing strategy, you might be wondering how you can reach success. The Brand Sherpas can help you develop a solid content marketing plan for your business and fulfill the required work that it will take to get your content ranking in search engines.
CONTENT AUDIT & CREATION SERVICES PRICING
Content Marketing Strategy
*Requires prior purchase of a content audit to start
Monthly Full Service Content Creation
*Requires prior purchase of a content audit and content marketing strategy to start
Content Auditing & Content Creation
Most frequent questions and answers
Content audits are similar to  an in-depth technical SEO audit, except they are tailored to only focus on your website's content only. During a content audit every piece of content associated with your website will be analyzed thoroughly and will be graded.
Content audits can give you a granular hyper focused birds eye view of your websites content and analyze what is working and what is not working. It also tells you why individual content is underperforming, not performing at all or how your entire content strategy is doing. Much of the time when a content audit is completed we discover that pages are not topically relevant, missing essential keyword terms, not practicing proper exclusion principles, or have no proper structure or interlinking mechanisms. Yikes! That's bad SEO! Content audits that come back with bad grades usually are not ranking well in search results, or could rank better.
Reviewing the content audit results and using your free strategy call to discuss the results with your project coordinator is the first thing to do after a content audit. The next step is getting all of your content optimized correctly, developing a solid content strategy and then following through on your content strategy by creating new content that is optimized to rank in search engines.
Of course! The Brand Sherpas takes great pride in developing effective content strategies for our customers and helping businesses get on the right path to reaching their goals online. If you have already ordered a content audit then talk to your project coordinator about developing a content strategy and how to get started.
Content audits also include competition research analysis. However, to have an in-depth competitor analysis you will need order a technical SEO audit as it is much more detailed. The competition analysis that is done in a content audit is primarily a analysis of a competing piece of content ion relationship to your target keywords that your webpage is trying to target. While you will be provided with analysis of a competing webpage the content audit will not dig deeper into the actual competitor as a whole. Much of the content auditing aims to compare your content with webpages that are ranking higher in search than your webpage and analyze why that may be. Due to the fact that this is already very time consuming we cannot provide detailed analysis of every competitor for every piece of content you are having audited. rest assured that the content audit is thoroughly taking into account your competitors, just on a basis that is directly related to the content being audited and the keywords associated with it.
In regards to photos and images that are needed for creating your content, (for those who have ordered a content audit and would like to pursue content strategy and content creation services) we ask that you provide all of the images, photos or information that you would like included through our content gathering system called Content Snare, a project coordinator will explain how it works and how to get started. If you prefer that we use stock images, then please tell your project coordinator that stock images will be used and we will do our best to find ones that will meet your requirements.
Looking for more information?
Yes, it is a hyper focused version of a SEO audit. They are similar due to the fact that they are both audits. However, the difference is that it is only auditing your content. 
Content audits are the same price as a technical SEO audit. Pricing can also be higher or lower depending on the size of your website or how many pages of content you have. There is always a baseline minimum, amount we charge to do audits and that is $297.
If you would like to sign up for content creation services and have our agency write and publish all of the content please let us know. Our agency is designed to be able to perform every aspect of a solid content marketing strategy such as auditing, startegy development, and content creation and optimizations.
The content is written by our in house copywriters. Content written by them is optimized by our SEO technicians. Additionally our designers may also be involved if custom images need to be modified or created in certain circumstances. Content is never outsourced to ensure quality control and efficiency.
Yes, all of our writers are professional copywriters and bloggers. They have a very good understanding of SEO and can write SEO optimized content. Additionally our SEO's will make sure that the content is correctly optimized as well. Our writers will be familiar with your campaign, this is why we use in house writers to make sure there is familiarity.
The content will be designed to rank in search based upon your content audit results as well as your content marketing strategy goals. However, we never guarantee rankings. Any company who guarantees rankings must be also working for Google. There are many factors that can also influence whether or not a piece of content ranks in search for a targeted keyword. Some of those factors cannot be controlled by our agency. Your content will have the best chance of ranking highly in search but will not be guaranteed any type of position in search results. Websites that have more authority than you may not be able to be outranked and might require other SEO campaigns ( and time ) to outrank. Our agency is upfront about this with our clients and never promises results that cannot be promised. Many agencies promise results so that they can win more clients, we would rather just be honest and do the very best that can be done for your business.
READY TO INCREASE YOUR SEARCH VISIBILITY?